Industry
The pillars of your company are the customers
Improve brand positioning

Control the efficiency of your sales agents

Evaluate the service of your workers

Visualize your quality Worldwide
"When you have clear values, decisions are easier"
eAlicia has been helping companies to grow, train and know the degree of satisfaction of their customers for more than 10 years through a 360 CLOUD platform.
eAlicia's slogan is "MEASURE TO KEEP ON GROWING", and after 10 years of experience helping companies, it has given us a Know-How to help the Industry create knowledge, from training its workers to creating product campaigns . Everything can be measured and evaluated with eAlicia.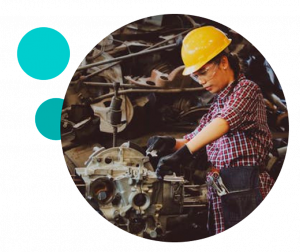 Knowing if a new product creates an impact is an easy task, knowing if a new product creates an impact worldwide that is already a task for eAlicia. Thanks to our eAlicia Worldwide Map, you can know in a matter of seconds how our Customer Experience works and what quality I am giving, saving time and costs.
We can compare these data with other campaigns, with other sectors and of course thanks to this data, anticipate and if necessary, rectify strategies when we want and where they are necessary. With eAlicia CX, you will have all kinds of reports by campaigns, in which you can filter the results by teams and by sites.
In addition, with the eAlicia University module, regardless of the sector, you will be able to train and inform workers who require it, since eAlicia offers you a university where you can monitor each worker and where each of them will have a tutor / evaluator who will be the one to monitor and improve it.